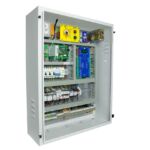 SK3 Y (MR)
Lift control panel SK3 for hydraulic lifts
Description
Technical data
Features
Product files
Description
The SK3 Y – (MR) lift panel of the Semitron SK3 series was developed to fully meet the requirements of a modern lift installation. The modern design and its high quality construction ensure speed in the installation and minimize the visits to the installation site.
Support for two independent CanBus communication channels allows communication with peripherals via quad-cabling, so if CanBus communication is selected, installation and maintenance are even easier and faster! Furthermore, the software upgrade, if required, is very easy and fast using a common USB memory stick, while providing additional integrity control of the UCMP-ACOP brakes and programmable inputs / outputs to meet the requirements of even the most demanding projects .
The panel SK3 Y – (MRL) of Semitron is made of high quality materials and is an ideal solution for the reliable service of the needs of both new and old installations, as it meets all the standards EN 81.20 / 50 and EN81-1 / 2.
• Operating voltage 380VAC (three phase) or 220VAC (single phase)
• Auxiliary voltage 24VDC
• Power from 4kW to 60kW
• Ability to service up to 24 stops
• Possibility of cooperation of two elevators (Duplex)
• Panel dimensions: 80Χ60Χ20 or 92Χ73Χ25
• Average table weight: 35kg
• Can work with all types of power units (boilers)
• System and rebalancing (RLV-A1) with open doors
• Automatic release
• Built-in serial communication CANBUS
• 2X USB ports for easy firmware upgrade and connection to Laptop via the SemitronLiftSuite operating system
• Leakage protection for all circuit circuits exceeding 50VAC
• Power supply on the panel 220VAC
Lighting: 42VAC (Max-350W) – 220VAC (Max-1320W)
• 110VAC safety chain (Leakage safe)
• Ability to work with all automatic doors 220VAC or three-phase. Also with Bus type 220VAC or 110VAC doors.
• EmergencySTOP integrated in the panel
• Check valve A3-UCM
• Speed limiter test panel
• Bypass switch
• Check that the door contacts are working properly
• Programmable entrances / exits to cover even the most demanding constructions