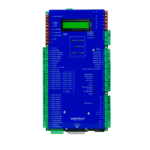 SK3
Description
Technical data
Features
Product files
Description
Semitron SK3 board was developed with the aim of flexibility and a high degree of functionality and safety of the elevator.
Its modern design and high quality construction ensure speed in the installation and minimize the visits to the installation site.
Its easy-to-read panel has an LCD screen that ensures optimal information on the condition of the elevator. The LED indications that exist for each entry and exit offer immediate monitoring and quick debugging in case of failure. The recording of more than 50 different error codes accompanied by the date and time they were created allows the immediate detection of faults without wasting valuable time while the software upgrade if required, is very easy and fast using a common USB memory stick.
The SK3 board is an economical, efficient solution that ideally meets the requirements of both new installations and renovations. Support for two independent CanBus communication channels allows communication with peripherals via intra-cabling, so if CanBus communication is selected, installation and maintenance are even easier and faster. Finally, the SK3 board can be used in any elevator, Hydraulic and Electromotive while meeting the requirements of EN 81-20 / EN 81-50 / EN 81-1 / EN 81-2.
• Voltage supply: 0-9Vac and 0-18Vac
• 41 inputs, of which 16 are input-output
o 7 insurance chain control inputs
o 27 exits
• 2 CanBus channels
• Dimensions: 283Χ135Χ15mm
• Easy-to-read panel with LCD display and elevator status LEDs
• Display of over 50 error codes for easier troubleshooting
• Up to 24 stops, full simplex CANBUS
• Up to 24 stops with 1 button per floor
• Up to 13 stops with 2 buttons per floor
• Duplex operation capability Via CANBUS or RS 485
• Duplex operation capability With a different collection of calls per lift
• Easy-to-read panel of all inputs and outputs of the panel
• Senses an Inverter fault and displays it on the screen
• Ability to move with 3 different speeds
• Supports release
• Programmable functions for arrow indicators and called
• Wide range of door settings with 21 adjustable timers
• Scheduled inputs / outputs
• HVBD – V2 safety valve drive module (independent High speed control within optional and glued auxiliary relay contacts)
• 21 output relays of which 5 are programmable
• 2 CANBUS channels
• 2 X USB, 1 X RS485
• Easy upgrade of the program via USB
• Isolated inputs from the rest of the board
• Selected output voltage for indicators
• Faulty door contact function for all types of doors
• Date and time display
• Check 7 different points of the insurance chain
• New smarter floor screed for greater safety
• New function for protection of the locking solenoid
• Possibility of multiple passwords
• Meets all the requirements of the standards EN 81-20, EN 81-50, EN 81-1, EN81-2